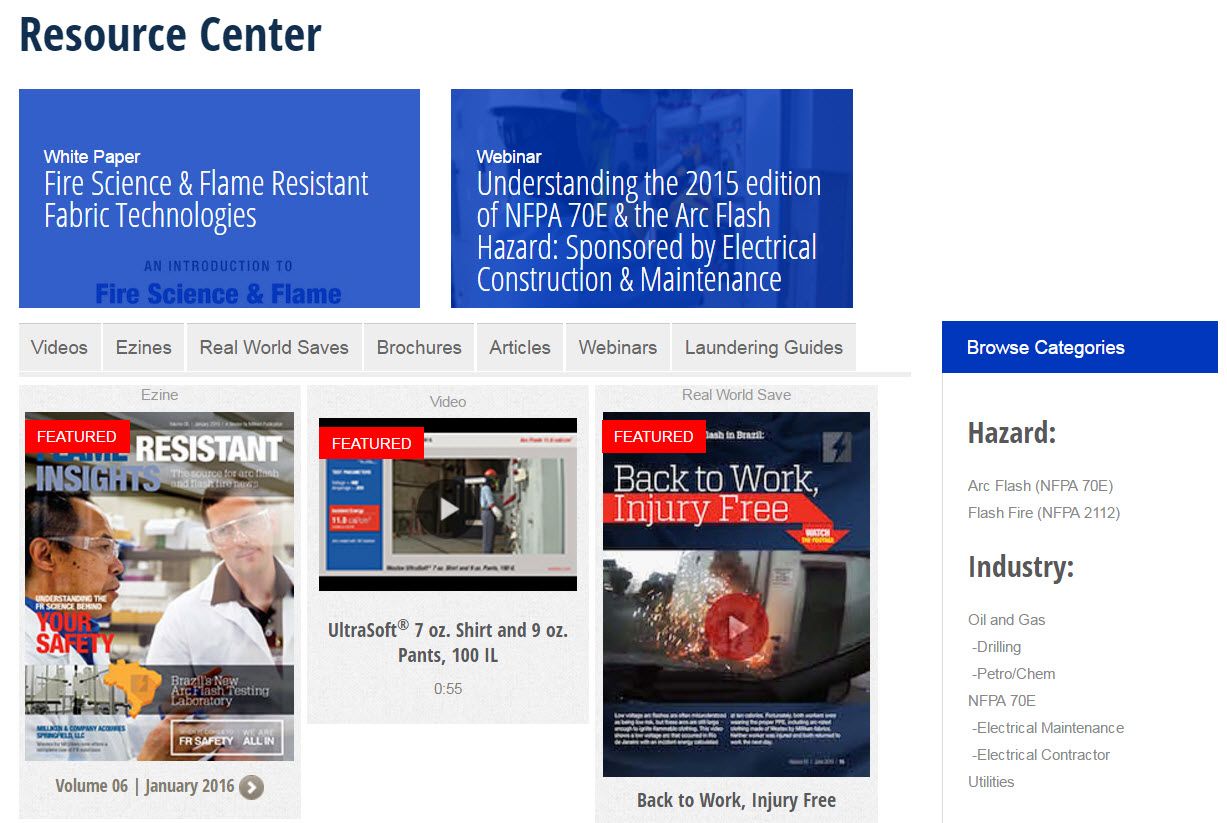 Your Online FR Resource
A vital part of FR safety is raising awareness and education. At Westex by Milliken, we pride ourselves on being more than just an FR fabric manufacturer. We are your FR resource when it comes to navigating the complex industry of arc rated and flame resistant fabrics and protection. We are committed to advancing FR safety education and training by providing free resources and tools to the industry.
Our unparalleled library of high definition of arc flash and flash fire test videos demonstrate hazards and show real world performance of various FR brands. Many of our resources have become standard training tools at companies worldwide.
The newly redesigned Resource Center on westex.com puts a wealth of FR safety information directly at your fingertips!
New & Featured Content
New content is featured at the top of our Resource Center and you will see featured content indicated by a red ribbon. From webinar recordings that you can watch at your convenience, to the newest edition of our electronic magazine (eZine) Flame Resistant InsightsSM, you can easily stay up-to-date with what's happening in the industry.
Unlock All Resource Center Content
Some of the content on our Resource Center requires you to fill out a short form for access. Instead, you can choose to quickly register to unlock all of our Resource Center content. Register just once and you won't have to fill out any more forms to gain access to any other tools!
Browse by Resource Type
Know what type of content you're looking for? Maybe it's a webinar, article or testing video. Use the tabs at the top of the Resource Center to browse through the different resource types to find the content you're looking for.
Browse by Industry Category
Not sure what type of content you're looking for but know what hazard you need to protect against or what industry you're in? Use the links in the right sidebar on the Resource Center to browse through different industry categories. When you click on a Hazard or Industry, you'll be taken to all of the content we have that relates to your choice, regardless of the content type.
Use the Search Box
Still haven't found what you're looking for? Use the Search box found in the grey navigation bar, right next to the tab where you click on Where to Buy. Enter a keyword to search our entire website, not just the Resource Center, to see if we have information online to help answer your question.
Other Ways to Stay in Informed
There are a few ways you can sign-up to receive automatic updates from Westex by Milliken:
Connect with us on social media! You can follow Westex by Milliken on Facebook, Twitter, LinkedIn and YouTube. Scroll to the bottom of our website and you'll see the different social icons where you can connect instantly to stay informed.
Subscribe to our blog! The Westex by Milliken blog is constantly updated with new information, including company announcements, educational information on FR fabrics, technical information about the FR industry and more. Simply click the Subscribe to Our Blog button in the right sidebar.
Subscribe to our eZine! Our interactive electronic magazine (eZine) is designed to help you make the best possible decisions regarding worker safety. Each issue includes information on safety regulations, FR clothing and more – all written by industry experts in a non-commercial format. You can subscribe to the eZine or view past issues here.
Westex by Milliken contact information can be found in the Contact Us link at the top or bottom of every page of our website. Have a topic suggestion or question? Reach out and let us know! When it comes to FR safety, we are all in.