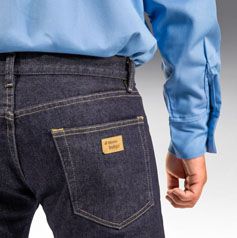 For many workers, denim is often the fabric of choice. Consumer insights revealed the unmet need for guaranteed flame-resistant (FR) denim to provide the same comfort and style of everyday denim clothing, including reduced shrinkage and a very soft hand. Our exclusive partnership with Cone Denim® brings innovative flame resistant denim apparel fabrics to the market.
Westex Indigo® offers:
A market-proven life of the garment FR guarantee
Rugged denim durability and versatility
Engineered comfort and mobility
The Westex Indigo® flame-resistant fabrics are certified to NFPA 2112 and meets NFPA 70E PPE Category 2 protection. Guaranteed flame resistant for the life of the garment in either high-temperature industrial or home washing procedures, Indigo® provides protection from electric arc and flash fire exposures as well as multi-purpose protection from molten ferrous metal and welding exposures.