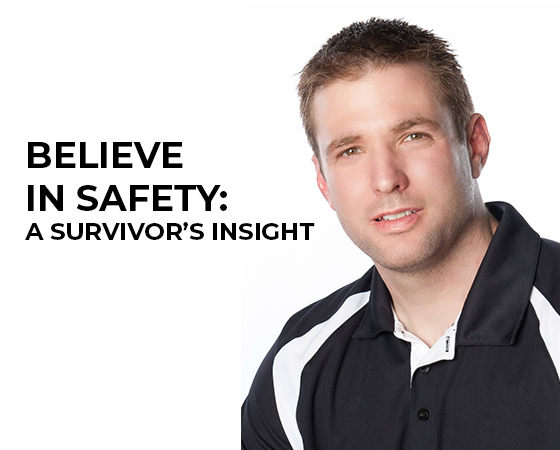 Believe in Safety: A Survivor's Insight

Arc Flash Videos

General

15 Dec 2017
After surviving an arc flash accident, which landed him in the hospital and required an extensive recovery process, Brandon Schroeder keenly felt the value in sharing his story. Not only was it a poignant narrative, but it also drove home the fact that an arc flash accident impacts more than just you personally.
Drawing from more than 15 years in the field and highlighting the role of safety with his own experience, Brandon now shares his stories with electricians, and safety managers and engineers to help shape the industry's approach to electrical safety. He connects with them on a deeper level, because he is one of them – someone who had to make continuous decisions each day in order to return home to his family. In sharing his story and what he learned, he hopes to foster a movement to believe in safety – coincidentally the name of his company.
"Not everyone is going to be as lucky as I was."
Brandon is very honest with assessment – he is extremely lucky to be here to tell others about his accident after not wearing the appropriate PPE. But he also admits to feeling down-and-out immediately after his accident and during his recovery. "I was transported to the hospital with devastating injuries. Yet, surprisingly, those most impacted by the accident were my family," shared Brandon.
In the weeks and months following his accident, Brandon, his wife and daughter had to navigate a new world of painful, and sometimes uncertain, recovery. Coming through this experience, he knew that the repercussions of his accident could take on a positive note. By sharing his story, he saw an opportunity to share his mistakes in the hope of saving others from a similar experience.
"No one ever thinks it's going to happen to them, but an arc flash accident is something you cannot go back on. There is no rewinding the clock to make better decisions. You have to live with those decisions, and so does your family. There is no second chance."
Brandon cannot go back to change his decisions, but he can help the industry to make better decisions going forward.
It isn't a question of experience
Before his accident, Brandon felt strongly his job was to work with electricity. He didn't see the need for arc-rated apparel – he was a well-trained and experienced electrician. "Nothing is going to happen to me because I know what I am doing," he often thought. Brandon didn't buy into safety protocol and proper PPE, because it just didn't resonate.
After his accident, his perspective on safety changed greatly. It wasn't a question of experience – accidents can and do happen to seasoned technicians as well apprentices. Safety is something all electricians should value, because it is a tool for mitigating the worst-case scenario.
"Instead of thinking about safety as a 'new hire' responsibility, take ownership of your safety routine. It might be the difference between your returning to your family tonight or not."
Investing in daily wear
Brandon is a firm believer in daily wear PPE as one of the many resources to turn a potentially catastrophic accident into a near miss. Daily wear PPE achieves maximum effectiveness without inconveniencing the user – combating a major hurdle presented by task-based PPE.
By contrast, daily wear PPE:
Continuously provides protection. Daily wear PPE is worn throughout the day, providing consistent protection as the worker goes about his or her day. Daily wear's effectiveness is not solely dependent on a worker's electrical task risk assessment. Regardless of the task, if an arc flash were to occur, the worker is wearing a minimum level of arc flash protection to help reduce catastrophic burn injury.  .
Conforms to non-AR work wear styles and trends. With the advancements in modern textile manufacturing, AR/FR fabric mirrors the wearability and usability of street clothing, with cutting-edge protection characteristics. Many times, daily wear shirts and pants can be worn before, during and after a workday because of their on-trend styling and comfort. Daily wear promotes a seamless work wear experience, encouraging those needing protection to wear the garments.
Combats complacency and efficiency hang-ups. The potential consequences of the "too experienced" mindset are greatly reduced when wearing daily wear PPE. For electrical workers, dressing each morning in PPE Category 2 daily wear can serve as a personal reminder of the dangers they face every day, which helps fight the complacency mindset.  Workers are also protected without worrying about lost time to properly "suit up." Greater efficiency is achieved with daily wear for most tasks, as trusted brands such as Westex® fabrics provide single layer Category 2 protection.
"Something I did a million times, and yet that one time caused me to not make it home for several months and almost never," emphasizes Brandon. He wasn't wearing PPE, and his situation could have easily cost his life. Now, through his work with Believe in Safety, Brandon is a staunch supporter of safety initiatives and proclaims the tremendous value of utilizing daily wear PPE.
Discover more about Brandon's story by viewing this video.
Interested in learning more about incorporating daily wear PPE into your safety program? Contact Westex by Milliken, a leading provider of proven and branded AR/FR fabrics, to discuss how daily wear is the right fit for you or your team.